©Copyright 2013, MG GRUP İleri Tekmolojiler AŞ. Her hakkı saklıdır / MG GRUP Advanced Technologies INC.All rights reserved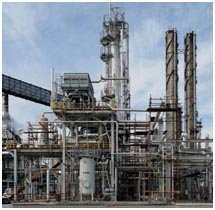 High quality
in work and life...


Features Of Glass Fused Tanks

- The standard tanks are delivered from dia 2,04 m to dia 41,88 m at the height up to 17,57 m. Atypical dimensions can be delivered after a technical discussion.
- The tanks have usually a concrete bottom but it also can be made by welded steel plates or glass coated bolted plates.
- The shape of the bottom can be flat or conical. The tanks can either be installed on the steel or concrete supports.
- The tanks can be covered with self-supporting gas-tight glass coated roof conical with 18o gradient, with either a membrane concave or flat glass coated roof. Tanks can be also covered by through deck flat roofs made by galvanized steel corrugated plates or aluminium plates.
- We prefer to deliver the complete devices ready to operate it means a tanks together with the interior built-in part and accessories. Both the customer's and designer's requirements are taken into consideration and the functionality of the device is guaranteed.
- Glass fused cones, cylinders or flat walls as the built-in elements can be delivered. Glass coated sheets can be delivered in four standard colours green colour (RAL 6009), brown (RAL 8017), white (RAL 9000) and blue (RAL 5013). There are 24 shades available to be agreed on according to the pattern book.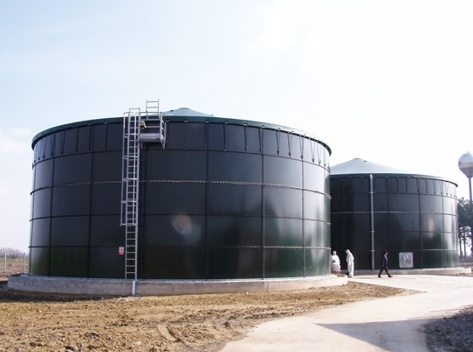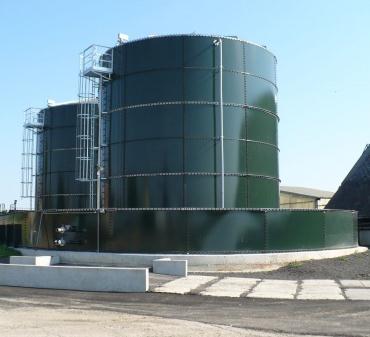 Glass Fused Tank
Projelerimiz
- The tanks are consisting from both-side glass-coated sheets, jointly lapped. The sheets are connected by bolted connection and tightened by special mastic during the assembly.
- The permanent visual check of tightness throughout the whole service life.
- The variability of the tanks design concept (diameter, height, useful capacity, piping passages etc.) and an easy connection of structural elements for positioning of technological equipments (agitators, pumps, heating etc.)
- A high abrasion resistance and chemical resistance of the surface layer - enamel (pH 2 - 11) up to 100 °C temperature
- Variability in roofs design (enamelled or steel hard roofs, textile roofs with an integrated gasholder etc.)
- An easy and fast installation of the fermentors and tanks on the prepared concrete foundations and a perfect sealing of all joints.
- A small built-up area
- Possibility of disassembly
- An easy disposal after the expiration of service life
Application areas

- loose material (limestone, cement, fly ash, bed ash, wood waste, sand and gravels, granules, salt, soot)
- liquid (potable water, waste water, fire water, desalted water, brine, oil, amoniak)
- agriculture (cereals, liquid manure, dung water, liquid fertilizers, feed mixture, silage)
- others (tanks for WWTPs, tanks for Biogas station, gasholder, fermenters)
Glass Fused Tanks are designed for;

- drinking water - cereals
- desalinated water - limestone
- fire water - cement
- waste water - fly ash
- slurry, dung water - wood waste
- liquid fertilizers - gravel sands
- tanks for WTP - granules, PVC
- fermenters - brine, salt
- crude oil - soot
- gasholders - silage